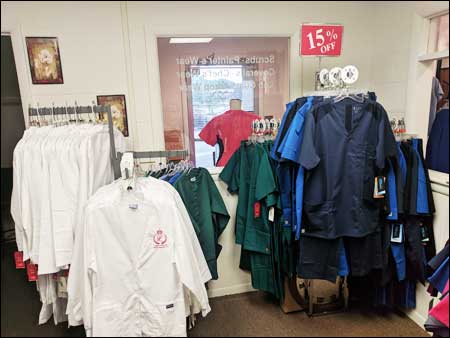 About Legacy School & Career Apparel
Legacy School & Career Apparel, LLC was established in June of 2005 to fill a void in the school uniform market here in the Hampton Roads area. We were originally named "Legacy School Apparel", and our sole focus was school uniforms and accessories. In 2015 we decided to expand the business and fill another void in the marketplace by adding uniform/work apparel, "branded" corporate image apparel and general employee clothing to our line of products, so we changed our name to Legacy School & Career Apparel, LLC to match the products and services that we offered. Our primary categories include culinary and hospitality apparel, casual and fine dress work wear, healthcare, and industrial work wear (including branded T-shirts), school uniforms and graduation apparel & accessories.
At Legacy we know what it takes to get a job done right. We value dedication, determination and the value of good, honest hard work. We also believe we can help make your job a little easier with our selection of top-performing apparel designed for the workplace. Apparel you can count on, day in and day out, to let you do your job. That's why we represent name brand manufacturers such as Edwards, Port Authority, Dickies, Maevn Uniforms, Jockey Scrubs, META Labwear, Five Star Chef Apparel, Uncommon Threads, Gildan, Jerzees, Van Heusen, Next Level, Bella & Canvas and Augusta Sportswear.
Give your company a customized look. Quality work apparel customized with your company name or logo has many benefits – it helps promote your brand recognition, instills workers with a sense of pride and team spirit and creates a professional image that builds credibility and confidence with your customers. At Legacy School & Career Apparel, we have the know-how and resources to outfit businesses of all sizes and industries. If you need more assistance, our friendly staff is always available to find the best solution to your needs. Call (757) 848-5348 or Please email us with your questions.
Get to know our leader & brand champion
Since 2005, Drenna Love has been proud to serve as the President and CEO of Legacy School & Career Apparel, LLC.
In addition to standing behind and speaking up for the Legacy School & Career Apparel brand, Drenna enjoys lending her name and experience to community efforts such as volunteering as a mentor at Bassette Elementary School here in Hampton, Virginia. Among other pursuits, Drenna serves on the Board of Directors for Tick Tock Around the Clock, LLC and Christians United for Haiti. She also serves on the Marketing Committee for the Coliseum Central Business District. Under Drenna's leadership, Legacy School & Career Apparel is the proud sponsor of "Operation School Uniform" started by the My Help My Hope Foundation, Inc. The My Help My Hope Foundation is the only organization in Hampton Roads that offers assistance with school uniforms for children of families fleeing domestic violence, sexual assault and human sex trafficking, that live in domestic violence and homeless shelters. "When we were approached by the organization we were so excited about giving hope to families going through a traumatic event in their lives. Our goal is to make sure every child living in these type of shelters has the school attire they need through out the school year if need be, until that family is back on their feet."